During Sunday night's Presenditial debate, Donald Trump acknowledged using a nine-figure loss in 1995 to reduce tax obligations and sought to liken the move to strategies used by some of Democratic presidential nominee Hillary Clinton's wealthy supporters, including Warren Buffett.
Yesterday, the billionaire Berkshire Hathaway Inc. chairman released information from his personal taxes and challenged the Republican presidential candidate to do the same.
"I have paid federal income tax every year since 1944, when I was 13. (Though, being a slow starter, I owed only $7 in tax that year,)" Buffett wrote. "I have copies of all 72 of my returns and none uses a carryforward."
Anderson Cooper, one of the moderators, asked Trump whether he had used a $916 million loss that he reportedly claimed on the tax return from 1995 to reduce his taxes using a 15 year carry forward (a loss that is counted against future income).
Buffett has been clashing for months with Trump, who has refused to release his tax returns, citing an audit. He dismissed the contention that Trump can't release his own return because of an audit by the IRS referencing his own experience.
"I have been audited by the IRS multiple times and am currently being audited," Buffett wrote. "I have no problem in releasing my tax information while under audit. Neither would Mr. Trump — at least he would have no legal problem."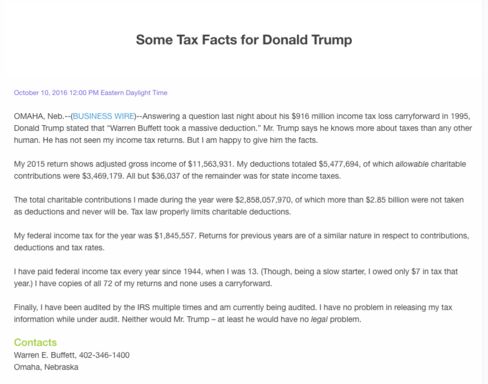 Jessica Ditto, a spokeswoman for the Trump campaign, declined to comment on Buffett's remarks.
Trump, who has departed from roughly 40 years of tradition for presidential nominees by declining to release his returns or any tax information, has said he'll make them public once the audit is complete and that returns wouldn't give voters very much information.
Via Bloomberg and Washington Post.